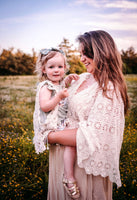 Welcome to Linen & Grace
Hey mama & WELCOME! My name is Ashley and I'm the owner & founder of Linen & Grace. Thank you so much for checking out my little slice of the internet, I'm so glad you are here! I always dreamed of starting my own boutique and with all of the fun of having our little lady in April of 2019 a children's boutique seemed like such a great idea. I worked in retail management for quite a few years before getting into my current job and loved every second. I wanted to focus on building something for our little family that incorporated the importance of family as much as possible.
Getting this small business started has been a process and it's one I'm forever grateful for. We started out with nothing but burp cloths, teething rings and more backpacks than I knew what to do with and it has turned into an amazing community that I never could have dreamed to be so perfect!